"they are rock music..."

---
The Monks of Doom formed in 1986 while the members of the band were still the rhythm section for the band Camper Van Beethoven. At its inception, the band consisted of Victor Krummenacher on Bass and Vocals, Chris Pedersen on Drums, Greg Lisher on Guitar and Chris Molla on Guitar and Vocals. By the end of 1986, following a fall Camper Van Beethoven tour opening for REM, Chris Molla was expelled from Camper for a perceived lack of commitment, and subsequently failed to show up for Monks' engagements and so was replaced in that band by David Immergluck, at the time a guitarist for the Ophelias. By the time the first Monks record came out, David was a full time member. This line-up remained consistent until the band's demise in 1993.
---
---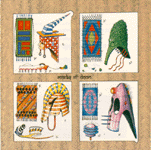 Soundtrack to the Film "Breakfast on the Beach of Deception"
1987 Pitch-A-Tent Records, later reissued on IRS Records.
In Anticipation of the Pope
Blues on Sunday
Facts About Spiders
Ukranian Technological Faith Dance
Lappish Tea Song
B-Music
Fall From Grace
Save Me From Myself
Visions from the Acid Couch
Insana and Her Manchild
Jim Gore and the Ghost of Missouri
The Haunting of an Eastern Man's Mind
Eldridge Street
recorded and mixed June 1986-August 1987 at Fox Studios in Felton with Tom Fox Eng., Radio Tokyo in Venice with Ethan James, eng. and Bruce Tambling Sound in Sunnyvale. with some trivial help from Andrew Norton, Wally Sound and Jonathan Segel.

this record features many members of the Wrestling Worms (another band on Pitch-A-Tent Records) including Graham Connah on Organ (now of the Graham Connah Group), Chris DiFrancesco on Sax, Steve Horn on Sax, Max Nunnemaker on sax, Richie West on French Horn (normally he was the drummer in the Worms, and poetry spouter. he also drummed for CVB for a short time. recently he has been spotted playing drums on one track of Mike Watt's new CD, "Ball Hog or Tugboat?") and Tom Yoder on Trombone (later with Hieronymus Firebrain, now with Eskimo.)

all songs by Monks of Doom.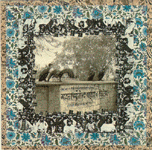 The Cosmodemonic Telegraph Company
1989 Pitch-A-Tent Records, later IRS.
Vaporize Your Crystals
The Vivian Girls
All in Good Time
Voodoo Vengeance
Taste of Tendon
Trapped
The Evidence You Hide
Unexplained Murders
The Beach of Deception
Broadcast at Midday
recorded and mixed Feb-March 1989 at Mobius Music in San Francisco with Oliver DiCicco and Jane Scolieri. features two cover tunes, #2 by Snakefinger and #4 by Eugene Chadbourne. all others by Monks of Doom.

this record also has cameos from Graham Connah. also Melanie Clarin doing backing vocals.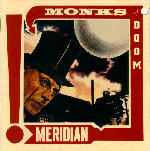 Meridian
1991 Moist/Baited Breath.
Cherry Blossom Baptism
Riverbed
Turn It On Himself
Geode 1
Door To Success
The Traveler
Argentine Dilemma
The Better Angels Of Our Nature
Going South
Follow the Queen
Hieroglyphic
The Harbor Incident
Miracle Mile
Geode 2
Circassian Beauty
recorded and mixed July-August 1991 Pyramind Studios, San Francisco with Edwin DeShazo. only additional musician is Mike Marshall on violin.

all songs by Monks of Doom.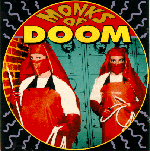 The Insect God
1992 C/Z Records.
The Insect God
Chang
Let's Split
If It Don't Kill Me
Who Are The Brain Police?
recorded Feb-March 1992 at Polymorph Studios in Oakland with Mark Stichman, except #5 recorded at Mobius Music in SF with Oliver DiCicco in Jan. 1990. all songs by Monks of Doom except #3 by Syd Barrett and #5 by Frank Zappa, and of course the words to the title track which come from an Edward Gorey story of the same name.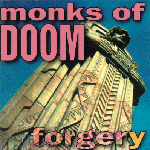 Forgery
1992 IRS Records.
Flint Jack
Flow
Tanguedia (for Astor Piazzolla)
Virtual Lover
Queen of Fortune
Dust
What Does a Man Require?
A.O.A.
Cigarette Man (Cast of Characters)
Off on a Comet
Tanguedia (Reprise)
Choas Is Not Dead
recorded June 1992 at Different Fur in SF, Brilliant Studios in SF and Mobius Music in SF. Produced (as such) by Dan Fredman. additional musicians include Melanie Clarin again on vocals, Jawahare on finger cymbals and Michael Manring contributing Bass harmonics. all song by Monks of Doom, except of course for "What Does a Man Require?" by Kurt Weill and Bertold Brecht (i think).
---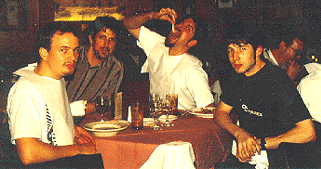 for the most part, the band only did California shows promoting the first two records, with the exception of a week's worth of East Coast shows with Jonathan Segel in April of 1989 promoting "Cosmodemonic" and JES' "Storytelling" album (same musicians, including the Wrestling Worms guys). With the demise of Camper Van Beethoven in 1990, the Monks were free to do more extensive tours around the United States, which they did until they finally broke up in 1993.

David Immergluck continued playing the guitar for other bands, mostly as a studio musician. He's worked for the Counting Crows, Papa's Culture and John Hiatt and has even gone so far as to do shows with some of these bands recently.

Victor Krummenacher formed the band Fifth Business (one single, "Prince of Lies" 1994 Magnetic) in Aug.1993, which lasted until Oct. 1994 when he disbanded it in favor of A Great Laugh, which still exists. They recorded one CD, "Out in the Heat" 1995 Magnetic, then became just plain ol' Victor Krummenacher, releasing two more cds so far, "St. John's Mercy in 1998 and"Bittersweet in 2000.

Greg Lisher plays guitar with Victor sometimes, although still living and working in Santa Cruz. he has released one cd, "Handed Down the Wire" in 2000 and is working on a second.

Chris Pedersen lives in Sydney, Australia and is playing drums in a death rock band called Spinal Tarp or something.
---
more later..... interview with Victor
---
&copy 1995 MAGNETIC