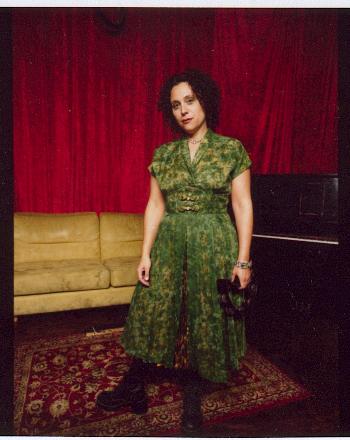 Alison Faith Levy's two solo albums for Magnetic, the sparse, moody landscape of The Fog Show, and the rich pop tapestry of My World View, showcase her impassioned vocals, eloquent lyrics and gorgeous piano playing.

Alison is a keyboardist, vocalist and songwriter for the wildly successful psychedelic rock band for kids, The Sippy Cups. She recorded two albums and toured as the keyboardist in The Loud Family, performed in The Minstrel in the Galleries with John Wesley Harding, sings blues, jazz & country standards with acoustic guitar legend Dale Miller, and is the vocalist for avant-improv group Mushroom. Her various musical projects have only served to broaden her palette and deepen her sound.

The Fog Show is a stripped down affair, consisting of only piano, vocals, and one additional instrument per song. Produced by Chris Xefos (King Missile, Moth Wranglers), the songs on The Fog Show weave in and out of each other in a languid, melancholy, emotionally charged melodic trip. Take one part Red House Painters, one part Dusty Springfield, with a little dash of Carole King and Brian Wilson thrown in for good measure. Perfect for a cold night, a hot bath, and a bottomless glass of whiskey.

My World View picks up where The Fog Show left off, replacing a modest melancholia with a more assured, full pop sound. A proper string quartet graces the pop gem "The Apprentice," a lonesome horn section adorns "Poetry," and strumming acoustic guitars and mandolin drive the country-flavored "Ball of String." A full band rocks through the title track, while the Counting Crows' David Immergluck adds his menacing guitar to "The Poison." Everything from accordion to tuba to 12-string Rickenbacker is given a special place on this stunning album.

Alison is currently working on songs for a third solo album, as well as new releases with The Sippy Cups and Mushroom.
---
Alison Faith Levy Discography
My World View - CD (MAG 0014) 2000
Sonoptic - "Chore Overload" - CD (Warpodisc) 1999
The Fog Show - CD (MAG 0010) 1998
The Loud Family - "Days for Days" CD (Alias) 1998
DENT - Verstarker - CD (MAG 0011) 1998
"The Scientist"/"Execution Day" - (Gilt 01) 7" single 1995
Grumbelina (Piece of Mind 42) - CD 1994
Also appears on:
moth wranglers - Never Mind The Context
Victor Krummenacher - Bittersweet
Jonathan Segel - Scissors and Paper
Alison can be reached at PO Box 460472, San Francisco CA 94146 or via email.