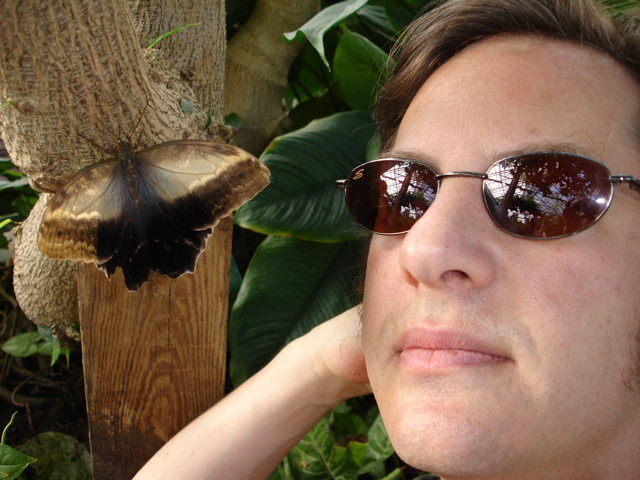 Jonathan Segel is a composer, performer and multi-instrumentalist. He plays guitar, violin, computer, electric bass and sings. He was at one time the Puppet Figurehead of Magnetic, a company run by unseen forces.

NEW Jonathan Segel WEBSITE!! Finally. Not that it has more info than here...
Jonathan Segel Bandcamp music page, where you can find downloadable audio of almost ALL of this music.
Born in Marseilles, France, grew up in Davis, California (with a year's side trip to Tucson, AZ.), went to college at the University of California at Santa Cruz, studying with Gordon Mumma and Peter Elsea. In Santa Cruz he hooked up with Camper Van Beethoven, apparently for life. He moved up to San Francisco in 1989, moved to Los Angeles in 1997 to work for Dane Davis at Danetracks, a film sound post production facility, then back to Oakland in 2001, where received a Master's Degree in Music Composition at Mills College, studying with Fred Frith, Pauline Oliveros, Alvin Curran, and Joelle Leandre.
While in Santa Cruz, he played with Camper Van Beethoven, Eugene Chadbourne and various other semi-musical projects, while in San Francisco with Sideways, Virginia Dare, Granfaloon Bus, Dieselhed and his own bands Hieronymus Firebrain which dissolved and reformed as Jack and Jill, which later led to various records of rock music under his own name. While in Los Angeles, besides doing shows with Eugene Chadbourne, he played with Clyde Wrenn (as Clyde Wrenn and the Container), with Mike Marrt's Beaumont, occaisonal shows with Mark Goodman's group, Magnet, and spent a great deal of time touring the globe with Mark Linkous' group, Sparklehorse.
Upon return to the Bay Area in 2001, Jonathan has been playing rock shows with his own eponymous band, as well as a reformed and revitalized Camper Van Beethoven. He has made several guitar-centric rock music cds and has performed this music in scattered California shows, including opening slots for such acts as Built To Spill. (He has also sat in with Built To Spill and Yo La Tengo onstage as a violinist!)
A new Camper Van Beethoven studio cd, "New Roman Times", came out in the fall of 2004, and a Greatest Hits package in 2009, both followed by much touring in the United States and Europe, which continues to this day.
In addition to this, leaving Los Angeles and the film and music industries led Jonathan back to the world of improvisation and electronic music, and he has been performing improvised music for instruments and computer around the world for the past few years, including shows in the SF Bay Area, New York, Europe and Japan.
2003 saw the CD release of several improv collaborations with notable artists such as Fred Frith and Joelle Leandre, and with Shoko Hikage, and the first of many electronic music CDs. In 2004, after various shows as both a rock and an improvising duo with Dina Emerson, Chaos Butterfly formed and began recording and touring. Several CDs were produced worldwide, as well as performances in the US and Europe with many collaborators. Chaos Butterfly is now a moniker for Jonathan performing electronic or otherwise avant-garde improv with a host of other potential musicians.
In 2012 Jonathan relocated to Stockholm, Sweden with his family, where he currently resides.
He has also been composing music for the Cid Pearlman/Nesting Dolls Dance Company since 1992, and has composed music for Curt Haworth's Dance Company, Deborah Slater Dance Theater and Maxine Moerman Dance Theater.
Much of this music can be found at music.jsegel.com
Material Press in Germany are the publishers of Jonathan's Chamber Music scores, available in PDF form.
common name misspellings include: Jonathan Segal, Jonathan Siegel, Johnathan Segel, Jonathon etc. (i mean, Willem Shaxepeere's name wasn't solidified til years later either....) Sometimes, several different spellings in the same article, even! (You can pronounce it as you like. Jonathan's dad Irwin Segel says it rhymes with "bagel", but he's from New York.)
on YouTube, Jonathan's Channel has many performances from Chaos Butterfly and his rock band.
Also on MUZU.tv

Here's a bunch on CDBaby:
---
Jonathan E. Segel Discography
Solo or as Hieronymus Firebrain or Jack & Jill
playing guitar, singing, violin, etc
1988 Jonathan Segel Storytelling
Pitch A Tent Records
1990 track on the Acoustic Music Project benefit for Open Hand cd with David Immergluck
Alias Records
1991 Hieronymus Firebrain Hieronymus Firebrain
Delta Records
1993 Dr. Firebrain's Plane Crash Tape, Vol.1
Magnetic
1994 Hieronymus Firebrain There
Magnetic
1994 Hieronymus Firebrain Here
Magnetic
1994 track on Pushing the Norton -- the Ace Cafe Compilation with Fifth Business
Heyday Records
1995 Jack & Jill Chill and Shrill
Magnetic
1997 Jack & Jill Fancy Birdhouse
Magnetic
2000 Jonathan Segel Scissors and Paper
Magnetic
2003 Jonathan Segel Edgy Not Antsy
Magnetic/Pitch-A-Tent
2007 Jonathan Segel Honey
Magnetic
2012 Jonathan Segel All Attractions/Apricot Jam
Magnetic
---
with Camper Van Beethoven
playing violin, guitar, keyboards, singing, etc...
1985 Telephone Free Landslide Victory
Independent Project Records, presently licensed to IRS Records
1986 II & III
Pitch A Tent Records, presently on IRS Records
1986 Camper Van Beethoven
Pitch A Tent Records, presently on IRS Records
1987 Vampire Can Mating Oven
Pitch A Tent Records, presently on IRS Records as Vantiquities with extra tracks
1988 Our Beloved Revolutionary Sweetheart
Virgin Records
2000 Camper Van Beethoven is Dead, Long Live Camper Van Beethoven
Pitch-A-Tent Records
2002 Cigarettes and Carrot Juice - The Santa Cruz Years
Pitch-A-Tent Records
2003 Tusk
Pitch-A-Tent Records
2004 New Roman Times
Pitch-A-Tent Records/Vanguard
2008 Popular Songs of Great Enduring Strength and Beauty
Cooking Vinyl
2013 La Costa Perdida
429 Records/Savoy
---
with Eugene Chadbourne
playing violin, mandolin, slide guitar, keyboards, toys...
1987 Camper Van Chadbourne
Fundamental Records
1988 Eddie Chatterbox Double Trio Love Album
Fundamental Records
1991 Eugene Van Beethoven's 69th Sin-Funny
Fundamental Records
1999 Used Record Pile
Knitting Factory Records
1999 Revenge of Camper Van Chadbourne
Knitting Factory Records
2001 PsyCHADelidoowop
Magnetic
---
as Chaos Butterfly

2005 Live at Studio Fabriken, Gothenburg, SE - with Biggi Vinkeloe
Eld Records
2005 threelivingthings
Magnetic/Pitch-A-Tent
2005 Radio
Magnetic
---
other electronic/electro-acoustic
2003 Jonathan Segel Non-Linear Accelerator
Magnetic/Pitch-A-Tent
2005 Rauk
Magnetic
2005 Amnesia/Glass Box
Magnetic
2006 Summerleaf
Magnetic
2007 Underwater Tigers
Magnetic
---
improv
2003 Fred Frith/Joelle Leandre/Jonathan Segel Tempted to Smile
Spool
2003 Jonathan Segel/Shoko Hikage Gen
Spool
2006 Moe! Staiano's Moe!Kestra An Inescapable Siren Within Earshot...
Amanita Records/Rastascan Records
2006 various artists/Jon Raskin + Myles Boisen Music + One
Rastascan Records
2009 Lucio Menegon Sonic Demons
Edgetone Records
2010 Emergency String (X)tet and Rent Romus Emergency Rental
Edgetone Records
2012 T.D. Skatchit & Company Skatch Surveillance
Edgetone Records
---
other projects:
playing violin, guitar, etc.
1992 A Love Restrained by Granfaloon Bus
Discobolus Records
1994 Dieselhed by Dieselhed
Amarillo Records
also Dieselhed track on Germ's Choice '94 compilation from KUSF, and various 7" singles
1994 track on Come and Get It -- the Hairy Records Compilation with Fifth Business
Hairy Records
1994 Fifth Business 'Prince of Lies/Hey Robert' single
Magnetic/Hairy Records
1995 Dent Stimmung
Magnetic
1997 BaltimorePearlCrescentWhiteAdmiralSisterMeadowPaintedGodWillVisitYou by the Lords of Howling
Discobolus Records
1998 Dent Verstärker
Magnetic
2006 The Way You Shine by The Shimmers
Transit of Venus Records
---
with John Kruth
1996 Toast by the Electric Chairmen (John Kruth)
Weasel Disc
1999 MoonDog Girl by the Noodle Shop
John Kruth, Elliot Sharp, Atilla Engin and Jonathan Segel
Sparkling Beatnik Records
2008 Splitsville by John Kruth
Smiling Fez Records
---
with Clyde Wrenn
1998 The Container by the Container
Subliminal Records
1999 Clyde Wrenn 'Long Day's Journey into Night'
Surprise Truck Records
2001 Clyde Wrenn 'The Blue Cliff Record'
Blue Jacket Records
---
with Big City Orchestra
1998 'Greatest Hits and Test Tones'
2007 'Villanella'
2007 'Musical Box'
2007 'Love Film Greats'
---
as a hired gun:
1986 Yo 'Once in a Blue Moon'
Deadbeat Records
1987 Frontier Wives 'Rockinghorse Violins'
Petroleum By Products
1987 Spot 1019 'This World Owes me a Buzz'
Pitch a Tent, later on Frontier Records
1987 Young Fresh Fellows 'the Men Who Loved Music'
Pop-Llama
1988 Walkabouts 'Cataract'
Sub Pop
1991 Overwhelming Colorfast 'Overwhelming Colorfast'
Relativity
1998 Loud Family 'Days for Days'
Alias Records
1999 Magnet 'Sharkbait'
PC Music
1999 Sparklehorse 'Distorted Ghost' EP
Capitol/Parlaphone
2000 Alison Faith Levy 'My World View'
Magnetic
2000 Victor Krummenacher 'Bittersweet'
Magnetic
2000 Mike Levy 'Fireflies'
Parasol Records
2004 Artichoke Project "Stimoceiver"
Trolleystop Records
2006 ld beghtol and the New Criticism "Tragic Realism"
Darla Records
2007 Mossyrock "I know I'm Not Wrong EP"
2008 Victor Krummenacher "Patriarch's Blues
---
Film Soundtracks:
1999 The Invisibles, feature directed by Noah Stern
released on video 2001 Vision Box Pictures
2000 Bunny, feature directed by Mia Trachinger
2001 Kickin' Chicken, short directed by Joy Phillips
2001 100% Human Hair, short directed by Ann Kaneko
2002 Love Will Travel, feature directed by Teddi Bennett
2004 Bill's Run, documentary for POV/PBS directed by Richard Kassebaum
---
To find on iTunes:
All in a list! or:
Jonathan Segel: All Attractions/Apricot Jam
Jonathan Segel: Underwater Tigers
Jonathan Segel: Edgy Not Antsy
jonathan segel: non-linear accelerator
jonathan segel: Scissors and Paper
Jonathan Segel/Jack & Jill: Fancy Birdhouse
Jonathan Segel/Jack and Jill: Chill and Shrill
Jonathan Segel/Hieronymus Firebrain: Here
Jonathan Segel/Hieronymus Firebrain: There
Shoko Hikage & Jonathan Segel: GEN
Chaos Butterfly + Biggi Vinkeloe: Live at Studio Fabriken
Chaos Butterfly: threelivingthings
Fred Frith, Joelle Leandre and Jonathan Segel: Tempted to Smile
Shoko Hikage and Jonathan Segel: Gen

or on Emusic!!!:
Jonathan Segel: Scissors and Paper
Jonathan Segel/Jack and Jill: Chill and Shrill
Jonathan Segel/Hieronymus Firebrain: Here
Chaos Butterfly + Biggi Vinkeloe: Live at Studio Fabriken
Chaos Butterfly: threelivingthings