BIGORAPHY/HISTORY
From their humble beginnings as a surrealist spin-off "Imaginary Band", through their hard working days as veteran DIY road warriors, on to their arrested state of suspended animation and later re-birth, Monks of Doom remain one of the classiest, heaviest and most strangely unclassifiable bands to emerge from the late 1980s independent music scene. When the band put themselves on ice in 1993, they left behind five virtuosic, rocking albums that somehow fused post-punk sensibilities with prog rock decadence and folk tradition and elegance. Monks of Doom were formed in 1986 by four members of the ever-popular college/indie rock band Camper Van Beethoven: bassist extraordinaire Victor Krummenacher, guitarists Greg Lisher and Chris Molla and drummer Chris Pedersen. Molla soon left, and was replaced by radical musician David Immerglück (then of Bay Area favorites The Ophelias, soon to join the ranks of Camper Van Beethoven as well, and now a member of Counting Crows).
The Monks represented a casual opportunity to go beyond Camper's brand of folk-rock and Sixties pop and into the type of diverse experimental music played by kindred spirits Henry Cow, Snakefinger, King Crimson, Richard Thompson, Fred Frith and a host of other iconoclasts; artists who commanded as fierce and loyal a cult following as the Monks later would. "We were interested in doing slightly more outside music," Krummenacher said in a phone interview, "music that had heavier and more progressive tendencies. It was an outside expansion, a chance to go wherever our imagination took us."
For its first couple years the Monks existed primarily as an occasional side project to Camper Van Beethoven, and Krummenacher discounts claims that the Monks caused Camper's 1990 break-up. "I think it actually prolonged Camper in the long run," he said. "There was not a lot of Monks work done while Camper was active, although I think we were always hoping that there would be more. But Camper was so busy at the time and that was really the focus of our lives for the most part, doing the Camper stuff."
Most of the Monks' distinctive characteristics are revealed on their first album, the 1987 release "Soundtrack to the Film 'Breakfast on the Beach of Deception'". Ironic, distanced lyrics combined with impassioned playing that sometimes threatens to spin out of control; pseudo-ethnic electric folk tunes; enigmatic titles; Krummenacher's virile yet measured vocals. Instrumentals comprise most of the record, which may account for calling it a "Soundtrack" (the alleged "film" was a figment of the band's imagination). "The first record was a free-form freak out," Krummenacher recounted. "We had a few extra dollars sitting around and decided to go into the studio. I don't think we really had a clue about what we wanted to do; we just went for it and did it. We didn't really have any idea we were making a proper record until the thing was actually done!?!"
The Monks' next record, "The Cosmodemonic Telegraph Company", was made in early 1989, at the same time Camper was making its last record. Though they never gave up writing instrumentals, indeed every Monks record included one or more and about fifty percent of their live sets were always instrumental, the second album saw the band opting to do more lyric driven songs.
They were also extending and experimenting with their two-guitar attack. Together Immerglück and Lisher created an intricate composed sound that managed to be both aggressive and transcendental at the same time. "Greg and I just naturally came upon a playing chemistry between us that seemed to juxtapose the chaotic and the beautiful, the raw bluster and the ornate", Immerglück muses. Pedersen's powerful left-field drumming continued to startle and amaze...
The sonic assault of Monks' instruments combined with Krummenacher's intelligent lyrics, which were more influenced by classic and beatnik literature than your typical rock fare, produced a chemistry unlike most other rock bands. They worked on your brain as well as your gut. With Immerglück emerging as a vocalist in his own right, the dual and contrasting vocals of Immerglück and Krummenacher provided an added bonus.
The band worked creatively as a cooperative. All music on every album, with the exceptions of the few cover songs they did, was credited to the band as a unit. Krummenacher wrote most of the lyrics, but everything after that was worked out in the crucible of the rehearsal room. Krummenacher described the creative process: "The typical modus operandi was: Set up in the rehearsal studio - Turn on the tape deck - Play off the top of our heads until exhausted - Listen back - Isolate cool bits and work them up into something exciting! We did hours and hours and hours and hours of jamming. When we were writing, we were basically improvising twenty hours a week or more."
For Krummenacher, "Cosmodemonic..." represented an "experimental time between the first era of the Monks and the second." After Camper Van Beethoven's turbulent 1990 breakup in northern Sweden, Monks Of Doom caste their lot together and proceeded in earnest in to their "new era" as a hard working/full time "growing concern". Their first volley as an autonomous entity was "Meridian", the band's third album and their undisputed masterpiece. "On the third record we figured out that we were this really unique blend of post-punk and prog rock. That's where we blend the folkier and the weirder stuff, bring together the Neil Young and Captain Beefheart, the King Crimson and The Fall, the Richard Thompson and Can, and all these odd influences we were voraciously consuming at the time, and get away with it." "Meridian" is a mood piece, in which the vocals, lyrics and instruments contribute unerringly to an atmosphere pervaded by mystery, dread and loss. It culminates in the freak show horror of "Circassian Beauty," one of the heaviest rock songs ever committed to tape by the Monks, and surely one of the most fearful, especially at the end as Immerglück's psychotic vocals devolve into pre-natal, schizophrenic babble. "I'm afraid many a promising collegiate brain cell terminally deteriorated under the influence of that album, mine included", quipped Immerglück recently.
"Meridian" was also the beginning of a year of intense music making by the Monks. Between July 1991 and June 1992, the group cut three CDs for three different labels, "Meridian", the ep "The Insect God", and "Forgery", and the boys mercilessly toured back and forth across the country relentlessly. On "The Insect God", the Monks play a short but powerful set of music. Two of the five pieces are covers (Frank Zappa's "Who Are The Brain Police?" and Syd Barrett's "Let's Split"); one is an instrumental. The highpoint of the CD is its title track, a deliciously sardonic, decidedly politically incorrect adaptation of an Edward Gorey story of alien abduction (a favorite Monks subject!). Three months after completing "The Insect God", the Monks were back in the studio again to make "Forgery", which turned out to be their last record for well over a decade. Listening to "Forgery", it clearly retains the Monks unique personality; but they seem to have given up their hard edge in favor of a dreamier sound, one strangely appropriate to songs like "Virtual Lover" or "Cigarette Man (Cast of Characters)." Forgery was the Monks' major label debut, yet the stress of endless touring with little financial reward, and a less than supportive arrangement with new label IRS, led to the Monks Of Doom calling it quits (for the time being, as it turns out...)
After the Monks, David Immerglück first established himself as a sought-after studio guitarist, playing on countless releases, leading to a 4 year tour of duty with American classic John Hiatt, eventually and inevitably joining his old friends Counting Crows where he happily remains today. Victor Krummenacher pursued a variety of solo projects that included the bands Fifth Business and A Great Laugh. His four solo albums, Out In The Heat, St. John's Mercy, Bittersweet and Nocturne are available from Magnetic Records. Greg Lisher's first solo project was released on Magnetic in early 2000. A follow-up is in the works. And as 2003 began, all four Monks were participating to varying degrees in Camper Van Beethoven's highly regarded reunion, which resulted in 2004's acclaimed "New Roman Times" and a return to international touring for Camper.
In 1998, five years after the initial Monks break-up, drummer Chris Pedersen announced plans to move to Australia and the band decided to perform together "one last time" before he left. A few days of intense rehearsals got them back in shape and they took the stage in San Francisco. "I felt really good about the show, it capped the band off well," Krummenacher said. "We went out and did all our hotshot licks, played our asses off, sold the venue out (much to our surprise, people flew in from all over the country!?), and had a really good time. And I mean it, it was a REALLY good time." "Yeah, I've gotta agree", laughs Immerglück. "Since we never really broke up in any sort of acrimonious way, the band has always retained a special place in my heart. After that euphoric reunion show, I really felt that, wow, who says we can't work together whenever we want to, and on our own schedule?" Lo and behold, the band flew their expatriate-drummer out from Australia in October 2003 for some new recording and a series of well-received shows up and down their native state of California.
2005 sees more select shows and the release of their long promised "covers" CD, "What's Left For Kicks?", an outrageous career spanning collection of recordings of this most inscrutable band interpreting some of it's most obvious and most obscure influences. The typically diverse selection of artists represented include Neu!, The Kinks, Rahssahn Roland Kirk, Nino Rota, Wire, Quicksilver Messenger Service, Steve Hillage, Roy Harper and a host of others (a bizarre blend that seems to actually describe the Monks' own unique sound). "What's Left For Kicks?" finds the band in peak form, with Immerglück and Krummenacher both offering some "star-turn" vocals, and the group interplay sounding as captivating as ever.
Despite the passage of time, and commitments to so many other projects calling each member, this fascinating ensemble just keeps on running on its own clock and of its own accord. "We seem to have matured, but we certainly haven't been tamed!" says Immerglück with distinct pride. A new record by the Monks of Doom is certainly cause for celebration! The "Imaginary Band" continues to titillate, or, to quote a Monks lyric, "The creature walks among us..." Indeed!!
---
Discography
Soundtrack to the Film "Breakfast on the Beach of Deception", Pitch-A-Tent Records, 1987, reissue IRS Records, 1992.
The Cosmodemonic Telegraph Company, Pitch-A-Tent Records 1989, reissue IRS Records, 1992.
Meridian, Moist/Baited Breath, 1991.
The Insect God, C/Z Records, 1992.
Forgery, IRS Records, 1992.
What's Left For Kicks? magnetic, 2006

---
Members include:
David Immerglück, guitar, vocals
Victor Krummenacher, bass, vocals
Greg Lisher, guitar
Chris Pedersen, drums
Chris Molla played guitar with the Monks for the first six months of their existence.
---
Timeline
1986
Camper Van Beethoven rhythm section forms Monks of Doom
Chris Molla leaves band
David Immerglück joins
1987
First album, Soundtrack to the Film "Breakfast on the Beach of Deception" released
1990
Camper Van Beethoven breaks up, Monks begin grueling three years of touring
1991
Meridian released
1992
Signed by IRS
1993
David Immerglück leaves Monks to join Counting Crows
Remaining members disband
1998
Reunion show in San Francisco
2003
Reunion shows, California
2005
a couple more reunion shows, California
---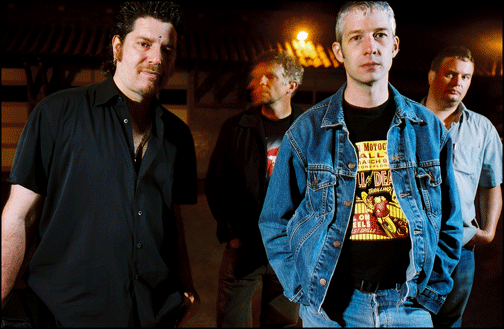 ---
The Monks of Doom formed in 1986 while the members of the band were still the rhythm section for the band Camper Van Beethoven. At its inception, the band consisted of Victor Krummenacher on Bass and Vocals, Chris Pedersen on Drums, Greg Lisher on Guitar and Chris Molla on Guitar and Vocals. By the end of 1986, following a fall Camper Van Beethoven tour opening for REM, Chris Molla was expelled from Camper for a perceived lack of commitment, and subsequently failed to show up for Monks' engagements and so was replaced in that band by David Immergluck, at the time a guitarist for the Ophelias. By the time the first Monks record came out, David was a full time member. This line-up remained consistent until the band's demise in 1993.
---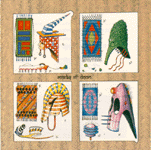 Soundtrack to the Film "Breakfast on the Beach of Deception"
1987 Pitch-A-Tent Records, later reissued on IRS Records.
Blues on Sunday
Facts About Spiders
Ukranian Technological Faith Dance
Lappish Tea Song
B-Music
Fall From Grace
Save Me From Myself
Visions from the Acid Couch
Insana and Her Manchild
Jim Gore and the Ghost of Missouri
The Haunting of an Eastern Man's Mind
Eldridge Street
recorded and mixed June 1986-August 1987 at Fox Studios in Felton with Tom Fox Eng., Radio Tokyo in Venice with Ethan James, eng. and Bruce Tambling Sound in Sunnyvale. with some trivial help from Andrew Norton, Wally Sound and Jonathan Segel.

this record features many members of the Wrestling Worms (another band on Pitch-A-Tent Records) including Graham Connah on Organ (now of the Graham Connah Group), Chris DiFrancesco on Sax, Steve Horn on Sax, Max Nunnemaker on sax, Richie West on French Horn (normally he was the drummer in the Worms, and poetry spouter. he also drummed for CVB for a short time. recently he has been spotted playing drums on one track of Mike Watt's new CD, "Ball Hog or Tugboat?") and Tom Yoder on Trombone (later with Hieronymus Firebrain, now with Eskimo.)

all songs by Monks of Doom.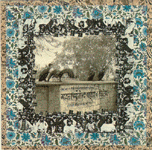 The Cosmodemonic Telegraph Company
1989 Pitch-A-Tent Records, later IRS.
All in Good Time
Voodoo Vengeance
Taste of Tendon
Trapped
The Evidence You Hide
Unexplained Murders
The Beach of Deception
Broadcast at Midday
recorded and mixed Feb-March 1989 at Mobius Music in San Francisco with Oliver DiCicco and Jane Scolieri. features two cover tunes, #2 by Snakefinger and #4 by Eugene Chadbourne. all others by Monks of Doom.

this record also has cameos from Graham Connah. also Melanie Clarin doing backing vocals.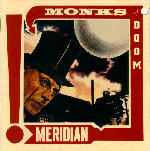 Meridian
1991 Moist/Baited Breath.
Cherry Blossom Baptism
Riverbed
Turn It On Himself
Geode 1
Door To Success
The Traveler
Argentine Dilemma
The Better Angels Of Our Nature
Going South
Follow the Queen
The Harbor Incident
Miracle Mile
Geode 2
Circassian Beauty
recorded and mixed July-August 1991 Pyramind Studios, San Francisco with Edwin DeShazo. only additional musician is Mike Marshall on violin.

all songs by Monks of Doom.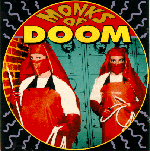 The Insect God
1992 C/Z Records.
Chang
Let's Split
If It Don't Kill Me
Who Are The Brain Police?
recorded Feb-March 1992 at Polymorph Studios in Oakland with Mark Stichman, except #5 recorded at Mobius Music in SF with Oliver DiCicco in Jan. 1990. all songs by Monks of Doom except #3 by Syd Barrett and #5 by Frank Zappa, and of course the words to the title track which come from an Edward Gorey story of the same name.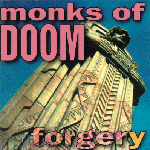 Forgery
1992 IRS Records.
Flint Jack
Flow
Tanguedia (for Astor Piazzolla)
Virtual Lover
Queen of Fortune
Dust
What Does a Man Require?
A.O.A.
Cigarette Man (Cast of Characters)
Off on a Comet
Tanguedia (Reprise)
Choas Is Not Dead
recorded June 1992 at Different Fur in SF, Brilliant Studios in SF and Mobius Music in SF. Produced (as such) by Dan Fredman. additional musicians include Melanie Clarin again on vocals, Jawahare on finger cymbals and Michael Manring contributing Bass harmonics. all song by Monks of Doom, except of course for "What Does a Man Require?" by Kurt Weill and Bertold Brecht (i think).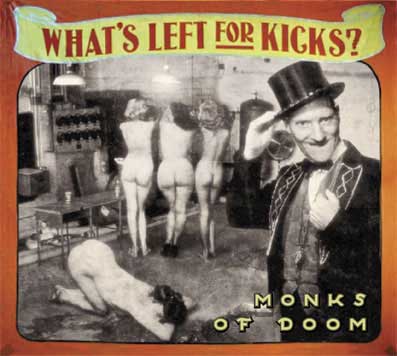 What's Left For Kicks?
2006 Magnetic
The 15th (Newman)
Light In The Sky (Hillage/Giraudy)
Forever (Harper)
New Saigon (Pell Mell)
No Looking Back (Bramah/Baines)
The Calvary Cross (Thompson)
Oh Well pt.1 (Green)
Dedicated To You, But You Weren't Listening (Hopper)
"La Dolce Vita" Suite: a)The Black And Crazy Blues (Kirk) b)Parlami di me (Amurri/Rota) c)La Dolce Vita (Verde/Rota)
King Kong (Davies)
Hurricane Fighter Plane (Cunningham/Thompson/Barthelme)
Calvary (Duncan)
Poison (Jansch)
Moon In June (Wyatt)
Für Immer (Dinger/Rother)
---